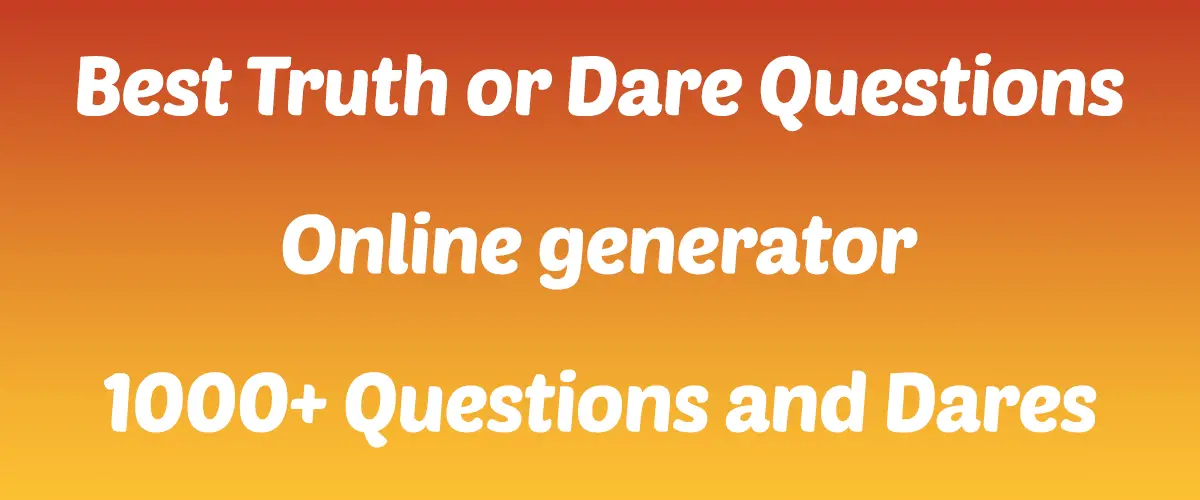 80+ Truth or Dare Questions
Last updated on June 12, 2019
When planning a party no matter who will be attending or how small the party is, after refreshment, the next thing on your mind is fun things to keep everyone entertained, like games. Truth or Dare is a widely loved game that can save the day anytime. In this piece, I will be showing you how to make your next party an easy one (especially as regards truth or dare questions).
Some of the great information I will be sharing are truth questions and good dares for everyone, yes everyone – kids, teens, and adults. So you needn't search anywhere else for truth questions or good dares because I will be sharing a list of questions, showing my awesome online truth or dare questions generator and mobile app. Exciting right? Let's get to it.
Table of Contents
Online generator for truth or dare

Let's begin with the online truth or dare generator. The generator is amazing for several obvious reasons that you must have seen by clicking the link. First, it is stress-free - you are only a click away from more than 1000 truth or dare questions, whenever you play the truth or dare game with friends and family at parties. With this generator, you can't run out of truth or dare questions and with little effort, you become the life of the party.
You don't need to be an Adult to use it because there is a category for just anyone – Kids, Teens, Couples, and Adults. Start using our generator for your truth or dare games and other question games today and thank me later.
Questions and dares ideas
Looking for the best dares? Or good truth or dare questions? Then you have come to right place. I have compiled 4 categories – kids, teens, couples and adult, of good truth or dare questions that will keep your parties fired up from now on. Become the most sought after truth or dare game player in your circle, with these questions and ideas as the ammunition in your arsenal.
The various categories give insight on the players, with a list of sample questions and dare ideas that will set the tone for the truth or dare game that everyone will enjoy and have fun playing.
Truth or Dare Questions for Kids
Truth or Dare game for kids for me, is the most interesting and funny category of the game. It's interesting because kids can ask the funniest and most intriguing questions that Adults may never think of or may consider insignificant. Below is a list of funny questions to ask and dares for kids as they enjoy their truth or dare game with their friends. These questions are tailored for kids and were put together with them in mind (language and content).
Questions ideas for kids
Here are some sample questions ideas for kids to play truth or dare game.
What was your most embarrassing farting moment?
If you could be any celebrity, who would you be and why?
Have you ever faked a sickness to stay home from school?
Have you ever used your lunch money for something other than lunch?
What's the dumbest thing you ever said or done, around a boy/girl you liked?
Have you ever watched a movie or TV show that you know you're not allowed?
Have you ever cried during a movie? If so, which one?
What is something you wish you were better at?
Have you ever broken something and blamed someone else?
When was the last time you did something nice for someone else?
Dares ideas for kids
Check out these samples of dare ideas for kids.
Go outside and yell "Happy New Year!"
Moonwalk across the room
Talk and act like a cowboy or cowgirl
Eat a pudding cup without using your hands.
Go into the front yard and do the chicken dance for one minute
Keep a straight face as the other kids do their best to make you laugh for one minute
Act out a favorite scene from a movie
Dance like a crazy on your favorite song
Try to lick your elbow
Imitate your favorite cartoon character
Truth or Dare Questions for Teenagers
Teens love to play the truth or dare game and when they do, it is always lively and energized with laughter and so many red faces. Thrill your friends at the next party with these truth questions and funny dares. You will find good questions to ask and you will be surprised how heads will turn when you spit the truth questions or funny dares.
Question ideas for Teens
Like I promised, these questions are top notch, here are some question ideas you may recreate or use directly.
What is something you've always wanted to try but have been too scared of?
If you were a king of your own kingdom, what would be your first order?
If you could trade places with anybody in the world, would you do it? If yes, who would it be?
If a genie came out of a lamp, what would your 3 wishes be?
Have you ever thought about changing your name? If yes, to what?
Which cartoon character do you resemble the most?
What's the maximum amount you think you can survive without your cell phone?
Would you rather be able to play any musical instrument in the world or speak with animals?
Would you rather be the most popular or the smartest kid at school?
If you had to audition for 'The Voice', which song would you choose to sing?
Dare ideas for Teens
Some funny dare ideas you would love.
Exchange tops/shirts with the person on your right
Tell us about your last dream
Being blindfolded, touch somebody and try to recognize him/her
Invite somebody to dance to a lame song
Say the alphabet backward
Drink a salty glass of milk
Look someone in the eyes and tell him he is very charming
Kiss everybody on both cheeks
Sing 'Old MacDonald Had a Farm' with a strong southern accent
Do the worm dance
Good Truth or Dare Questions
We all know how exciting party games are, that is when everyone puts up their best show. Though there are several drinking games, truth or dare is one drinking game that everyone loves. One preferred rule is to take a shot when you don't do a dare or don't answer a question truthfully.
As much as we all like to hear the questions, the next dare question is usually what's on everyone's mind. How embarrassing will it be? Will the next player oblige? How many shots will he/she have to take if they don't answer the dare questions? All these questions and calculations are what keeps truth or dare games energetic at every party.
Question ideas for party
Keep the energy high at your next party with these questions ideas.
What's your body count?
Who do you find most attractive in this room?
What would you do if you lived in the body of someone of the opposite sex for one day?
What is the most shameful thing you've done in your life?
Who did you have your best kiss with
Have you ever been so high or drunk that you were speaking with objects?
If you make your phone or keys fall in the toilets, would you put your hand in it to get it back?
What is the worst thing you've ever done to somebody?
Have you ever had a crush on someone that your best friend has dated?
Who's the most inappropriate person you've ever fantasized about?
Dare ideas for party
These dare ideas will keep every player on their toes the next time you play truth or dare at a party.
Tell everybody an embarrassing story about yourself
Fake sex noises
Play Quidditch whilst having 5 sips of your drink
Take a sneaky pic of all the players, without them knowing
Call a random phone number and talk to that person for as long as you can
You can't refuse to take a sip of any drink for 3 turns
Drink a cocktail made by another player
Sing a song as if you were sick
Take a shot of vodka without blinking
Put toilet paper on your body in a mummy-like fashion and use the picture on your social media.
Dirty Truth or Dare Questions
When it comes to truth or dare games for adults, expect anything, from dirty dares to sex-related and erotic questions. Most adults prefer to play dirty truth or dare games as a couple because it lets them into each other's darkest secret and adds spice to their sex life especially when they do dirty dares.
Questions ideas for adults
These truth or dare questions ideas will light up your next adult party.
What's the strangest place in which you've had sex?
Would you sleep with someone for a promotion?
What's the craziest thing you've ever done in bed?
What do you find the most disgusting about the opposite sex?
Could you have sex with someone of the same gender?
Were you turned on the first time you met your crush?
Have you ever had sex in the swimming pool/the sea?
What part of your body are you the proudest of?
Have you ever paid for sex?
What limits you can't cross in bed?
Dirty dares for Adults
These dirty dares will get everyone in the right mood for an exciting adult party.
Do a lap-dance
Touch another player's boobs
Use your tongue to write a simple word on another player's back and make him/her guess it
French-kiss a player of your choosing
Text one of your friends right now and ask him/her to join you for a threesome
Pour some liquid on your partner's body and lick it
Exchange all the clothes (including underwear) with a player of the opposite sex
Kiss your partner's cheek
Have a fake orgasm (with proper facial expressions and sounds)
Use a voice-changing filter on Snapchat and send someone a snap saying 'I wanna hug you till you die'
You're looking for a printable list of truth or dare questions? Checkout the image below!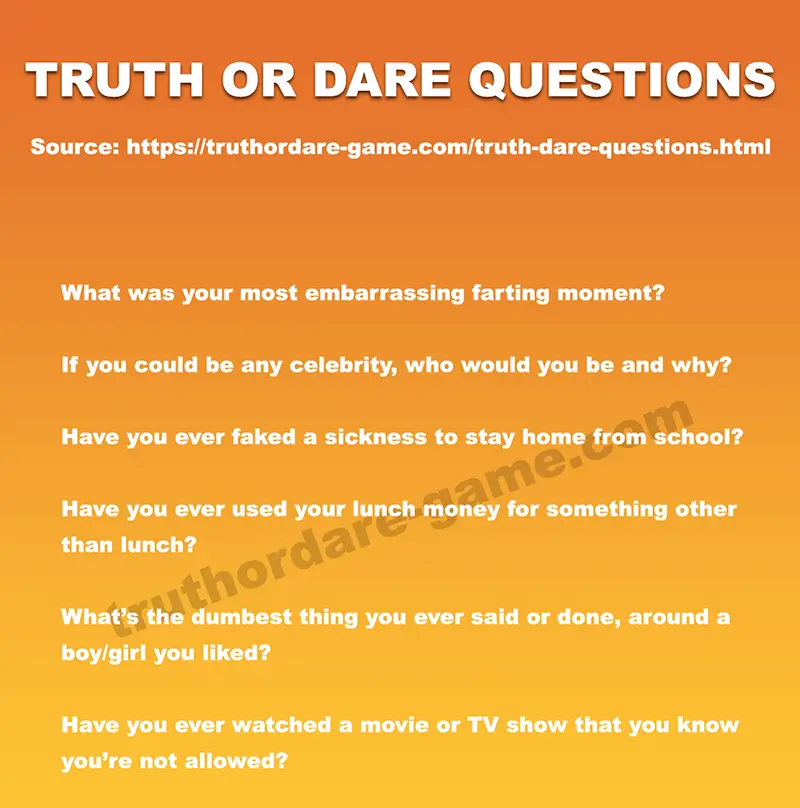 Truth or Dare App
Allow me to introduce you my mobile truth or dare app, available on Android and iOS. This app is a go-to for truth questions and intriguing dares whenever it's time to play the truth or dare game with friends or family.
On this app, you can play truth or dare with as many players as you like and have more than 1000 questions and dares at your fingertips. There are 4 categories: kids, soft, hot and party. One of the most amazing feature of this app is the opportunity you have to add your own questions or dares directly.
Download this amazing truth or dare app for Android on the Play Store, or on the App Store if you are on iOS. This mobile app offers 1000+ truth and dares ideas, so why don't you try it now?